New law school dean leads mission to infiltrate legal world with Christian advocates
For Liberty University School of Law Dean Morse Tan, education, career and family have always been areas of his life enriched by his passionate pursuit and prioritization of faith in Christ above all else.
Since joining Liberty Law in January, Tan has sought to continue the school's long tradition of Forming Champions for Christ reminding students and faculty how a faith-based life can be fruitful in the field of law.
"My heart and thoughts are often on how I can augment, pervade, deepen, expand and advance the Christian mission of this place," he said. "It's something I dwell on."
Prior to Liberty Law, Tan served as a Goodwill Ambassador for the U.S. Department of State's Bureau of Global Criminal Justice, where he oversaw the charging, sanctioning, capture, and/or conviction of mass atrocity criminals in places like Sri Lanka, Rwanda, the Balkans, and Lebanon.
During his legal career, Tan served as an attorney and legal counsel for major law firms. In legal academia, he has served as a law professor or visiting scholar at the University of Texas at Austin School of Law, University of St. Thomas School of Law, Florida Coastal School of Law, Northern Illinois University College of Law, Northwestern University Pritzker School of Law and Handong International Law School in Pohang, Korea, where he helped establish the first American JD program in Asia. He has taught courses on North Korean politics, international criminal law, international human rights, bioethics, and constitutional law, and he has published numerous law journal articles and made presentations on bioethics and human rights. international human rights, notably as an expert on North Korea. Tan is the author of "North Korea, International Law and the Double Crisis" (Routledge, 2015).
Tan holds a BA and MA from Wheaton College and a JD from Northwestern University School of Law, where he completed a concentration in international law. He is fluent in Spanish and Korean, with some basic knowledge of French, Chinese, Portuguese and Latin.
Teaching law through the lens of faith is a passion Tan shares with Liberty Law School, which he says is "one of the best in the country" for mentoring students and career preparation.
"Our faculty has no office hours; they have open offices," Tan said.
"America doesn't just need another law school, and the world doesn't just need another law school. If this school were to lose its Christian mission and identity, my advice would be to close it.

—Tan Morse
"It's just a central part of the ethos and culture of this place – we raise Champions for Christ," he added. "I'm going to pit this Liberty faculty against any law school in the country in terms of teaching and mentoring, and I sincerely believe that, and I've seen that throughout the last semester. in different ways. I've heard that from students and I've heard that from elders.
Whether it's Liberty Law's successful Moot Court team, which has already distinguished itself as one of the best programs in the country, or its rigorous six-semester set of legal skills courses, Tan said that Liberty Law remains focused on developing broad student communication. skills with preparatory programs that hone analytical ability, problem-solving skills, and alternative conflict resolution techniques.
The real-life preparation at Liberty Law is exceptional — and rare in legal academia, he said — because the majority of faculty come from years in the field rather than just in the classroom.
"Despite the saying that 'law school helps you think like a lawyer', much of the legal education at other schools actually helps you think like a law professor or an appellate judge. ; one thinks of law professors who, in the general model of this country, do not have much experience in the practice of law.
While a consistent record of success was a draw for Tan, so was Liberty Law's distinct Christian environment that he quickly came to love.
"It's a warm and friendly community because of our mission," he said. "Not in spite of her, not separated from her, but because of our Christian mission. I truly believe it to be true, and I experience it.
Tan said that since coming to Christ at a young age, he has always emphasized the Word of God.
"The scriptures have been a big part of my life. I came to Christ when I was 4 years old, and one of my first Sunday school teachers was stressing the importance of getting into the Bible, and it's been a big part of my life from from that time.
During his own college years, Tan was determined to be a shining light. As an undergrad, he helped lead an evangelism team and remembers being kicked out of a nearby college campus for sharing the gospel. But that didn't deter him from sticking to his beliefs. On the advice of his pre-law manager, he wrote to the college president and his team was eventually allowed to return. His desire to share the gospel continued at Northwestern Law School where he became co-chair of the first Veritas Forum in the Chicago area. The non-profit organization works with Christian students to organize forums centered on the exploration of truth and its relevance to human life through issues of philosophy, religion, science and other disciplines.
"We packed Northwestern's largest auditorium at the time and brought together 15 Christian ministries in this outreach," Tan said. "He played a significant role in preventing Northwestern University from changing its Christian seal and academic verse, which it was considering eliminating."
At Liberty's launch in May, Tan addressed graduates, imploring them to model Liberty Law's Christ-first approach even after they graduate and begin leading full lives as lawyers, spouses and parents.
"Keep God at the center of your life," he told them. "He is the hub and all the other parts of life are the spokes. But if you try to make the spokes the hub or the hub the spokes, you're not going to get a properly functioning wheel. You are going to have one that detaches from the inside of the wheel. Keeping the Lord at the center of everything is of crucial importance.
Facing hardships throughout his career, Tan found encouragement by immersing himself in the wisdom of Christians who came before us, which he also encourages Liberty Law students to do.
"Do not neglect the great classical Christian sources, starting with the Scriptures, but also read the great Christian legal thinkers. And stay imbued with these sources but also with the living Christian community that exists.
With these values ​​as his heartbeat, Tan is certain that Liberty Law and its mission to infiltrate the field for Christ is exactly what the world needs.
"America doesn't just need another law school, and the world doesn't just need another law school," he said. "If this school were to lose its Christian mission and identity, my advice would be to close it."
When not at Liberty Law, you can find Dean Tan on the tennis court, playing the cello or spending time with his family. He and his wife, Dr. Sarah Tan, have four children: Hope, 16; Enoch, 14; Isaiah, 10 years old; and Moses, 8.
---
FREEDOM ACT: ADVANCING THE MISSION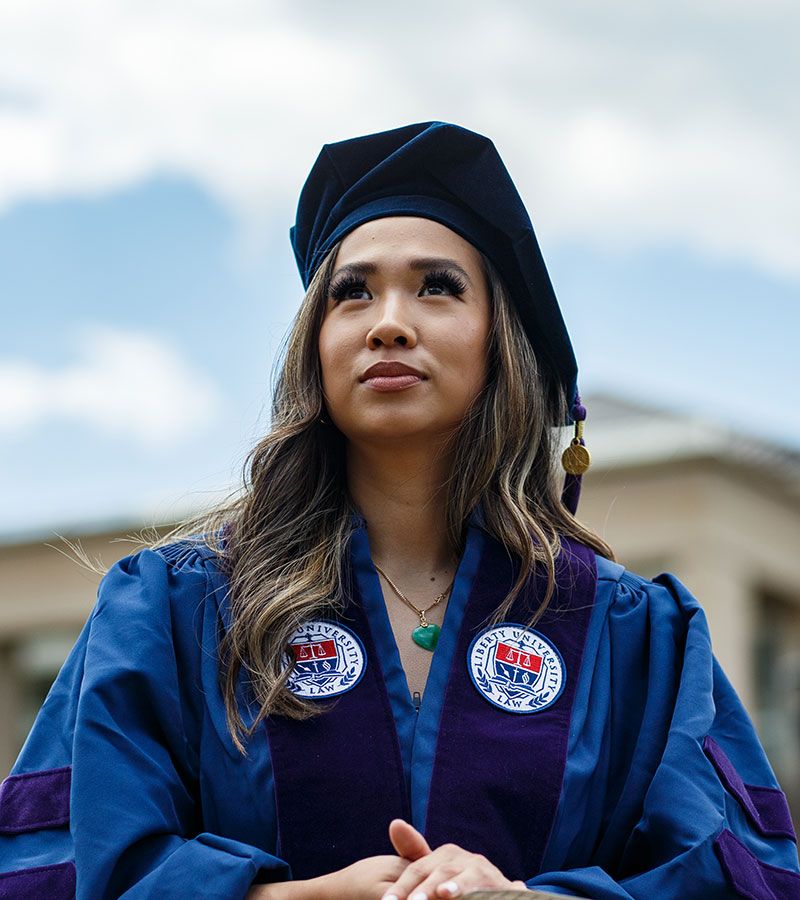 Liberty University School of Law has modeled for academia how to equip students to pursue excellence in their field while training them to be Champions for Christ.
Liberty Law was founded in 2004 on principles found in Holy Scripture, and year after year its graduates fulfill the university's original Christian mission of service to their clients and communities. There are now more than 1,000 Liberty Law alumni impacting the world for Christ in a variety of fields, from communications and government to criminal and corporate law and the judiciary.
With graduate employment rates in 2019-2021 exceeding 90% and with a 70% increase in applications over the past five years, Liberty Law continues to experience growth in numbers and stature.
The school is well known for its innovative legal skills program, which helps students graduate "practice-ready". The program teaches students how to conduct negotiations, depositions, and arguments before a judge and how to expertly draft legal documents such as pleadings, motions, briefs, articles of incorporation, and operating agreements. Liberty Law received an "A" grade from preLaw magazine for hands-on training and ranked #3 in the nation for AmericanBar.org's ABA competitions in 2019.
As of 2021, Liberty Law students have been called to the bar in 20 jurisdictions. The school has recorded an 88% pass rate for new enrollees in 2020 and 2021.
Through scholarships and scholarships, students also have the opportunity to study abroad, do advanced research, teach in college, and teach in elementary and secondary schools of the whole world.
concentration
• Advocacy
• Advocacy on appeal
• Business Law
• Constitutional law
• Criminal Justice
• Family law and minors
• International law
• Planning
• Property
• Taxation
• Trial plea
• Wealth management and
Financial planning
Dual degree programs
• Business (MBA) – 36 hours
• Divinity (M.Div.) – General
• History (MA)
• Public Policy (MAPP)
• Theological Studies (MATS)
This article was originally published as part of a package on Liberty University School of Law. Read additional articles:
here to serve
Law Graduate Spotlight: DC-Based Graduate Advocates Core Values ​​of Christian Faith
Spotlight on law graduates: Florida judge credits skills program with positioning him for success